Every step counts in the fight against cardiovascular diseases and stroke which is why we're inviting our entire Springfield Virginia community to participate in National Walking Day with us at Springfield Town Center! This year's National Walking Day event will be held at Springfield Town Center on Wednesday April 3rd from 10AM-12PM.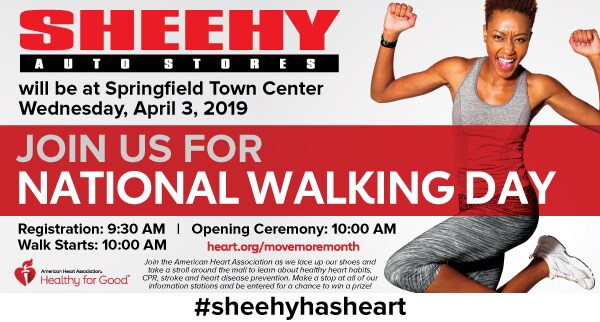 The day will start with a mile long walking tour of the mall with heart healthy and educational pit stops along the route. These pit stops will range from a healthy smoothie tasting, to hands only CPR demonstrations, to blood pressure workshops and information on active transportation. There will also be opportunities to win giveaways like concert tickets, signed sports merchandise, sporting event tickets and more!
What is National Walking Day?
National Walking Day is held on the first Wednesday of April and is a day committed to fighting cardiovascular diseases and stroke by moving more and getting active. Individuals, schools, communities, and businesses across the U.S. will be participating in National Walking Day by walking, running, and participating in any other heart healthy physical activities.

According to the American Heart Association statistics there is a link between being inactive and sitting too much with a higher risk of cardiovascular disease. Cardiovascular disease is the number one killer of men, women and children in the United States which is why getting active is so important. Additionally, the American Heart Association recommends that adults participate in a minimum of 150 minutes of moderate intensity physical activity a week because moderate physical activity has proven to increase people's overall health by lowering blood pressure and controlling weight.
Our National Walking Day Involvement:
This year our entire dealership will be participating in National Walking Day with our internal Sheehy Auto Stores Walking Challenge. We'll be competing with the other 21 Sheehy locations to see who can get the most steps on Wednesday April 3rd. We'll also be participating in the National Walking Day festivities at Springfield Town Center.

We'd love to see our loyal customers and other members of our Springfield Virginia community at Springfield Town Center on April 3rd to help us celebrate this day of movement and heart health!